News
Posted by Emmie Mayne on
Early this month Lowe Mill ARTs and Entertainment once again had the pleasure of hosting the Huntsville Comic Con for 2023. Lightning and Lace held a cosplay event with support of both the convention organizers and the Theatre Huntsville here at the mill. We held our costume event in two parts, the first was a costume showcase that gave participants experience with on-stage events as well as let them show off their costumes and character presentations off to the crowd! The second half of our program was a craftsmanship competition that had a wonderful showing this year with props, LEDs,...
Posted by Emmie Mayne on
This time it was to fit it to my neck, and to test a 3D print, I told myself. I am always "redesigning the collar" though, y'know?
Posted by Emmie Mayne on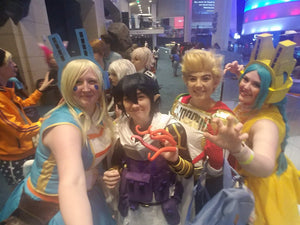 Originally posted in 2018 via Facebook, this archive describes the assembly instructions for our My Hero Academia Wild Wild Pussycat Helmet kits that you can order for yourself from our store!   Welcome to the tutorial for our Helmet Kits! The images in this tutorial are from the first version of our sold kits. Updates and additional information on the current (V3) version of this kit are updated where necessary. Applicable picture are below each section talking about them. This assembly takes a good hour or so, and the whole thing needs at least an overnight to have the wood...